Choosing the Right Fittings For Your Air Hoses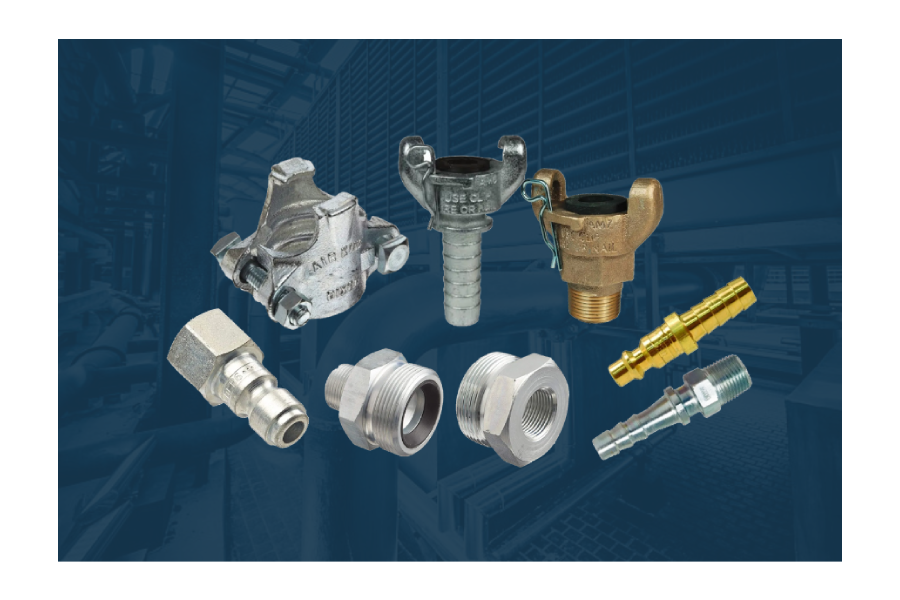 Air hoses are an essential component of any pneumatic system, and choosing the right fittings for your air hoses is crucial to ensure safe and efficient operation. The right air hose fittings can improve the longevity of your hoses, reduce leaks and damage, and increase the overall productivity of your operations. However, with so many types of air hose fittings available, it can be challenging to choose the right one for your specific needs. In this blog, we'll discuss the different types of fittings available for air hoses and provide some tips on how to choose the right one for your applications.
How do you choose the appropriate fittings for your air application?
It is necessary to keep in mind many factors when selecting the appropriate air hose fittings, including the type of air hose, air pressure (PSI), connection, thread type, material and other concerns. Air hose fittings come with various types of materials, brass and stainless steel are the most common types in the market. Most applications, air hose assemblies and air compressors, require a threaded or quick-release connection. Air hose fittings with threaded ends mostly come with national pipe thread (NPT) or British Standard Pipe (BSP). Most air hose fittings are threaded with 1/8", 1/4", 3/8", 1/2", or 3/4" pipe threads, with 1/4" being the most commonly used. The fittings feature a plug (male end) or a coupler (female end).
The overall efficiency of an air compressor (or the equipment with which it is connected) is determined by the air hose connectors and fittings. These fittings ensure that the flow of air and pressure via the air hose stay consistent while also being efficient.
Types of Air Hose Fittings available on Cheefatt.com:
| | |
| --- | --- |
| 1. Quick Connect Couplings | Quick connect couplings, also known as quick release couplings, are one of the most common types of air hose fittings. These couplings allow for easy and quick attachment and detachment of an air hose to an air tool or air compressor. Quick release couplings are standard with most industrial hoses. They are offered in a variety of sizes, styles and configurations. The couplings consist of two parts: a male plug and a female socket. The male plug is attached to the end of the air hose, while the female socket is attached to the air tool or compressor. When the male plug is inserted into the female socket, the mechanism locks the two parts together securely, allowing compressed air to flow through the hose and into the tool. To disconnect the hose from the tool or compressor, simply pull back on the locking mechanism on the female socket, which releases the male plug. |
| 2. Hose Nipples | Hose nipples are used for connecting two hoses or connecting couplings to hoses. While determining the proper hose tail size, consider the inner diameter of the hose. Furthermore, the hose tail should only be secured with a jubilee clip. Nipples are available with hose sizes on both ends as well as one hose size with one male thread size. The hose nipples come with hose shank size or threaded size with male NPT thread. |
| 3. Universal Hose Couplings / Air King Couplings | Dixon air king couplings are universal couplings used for connecting compressed air equipment to compressed air tools. They are engineered to be used with any type of air compressor tools and equipment, and have a maximum recommended working pressure of 150 PSI at ambient temperature at 70°F. These air king couplings feature a universal head which is interchangeable with all parts (hose ends, male NPT and female NPT) within ¼" to 1" range. These couplings enable any fittings connected directly to them regardless of the hose shank or threaded size, thereby providing flexibility in their usage. One of the convenient choices for many air applications. |
| | Ground joint couplings are all-purpose couplings as they are widely used for steam, air, water, fluid petroleum, liquid petroleum gas and chemical applications. The ground joint couplings consist of two parts. The spud part is usually fixed to the equipment, while the stem part is clamped to the hose. To connect or disconnect the two parts, simply rotate the wing nut on the spud. When connected, they achieve both a mechanical and a pressure seal. Both mechanical and pressure seals are achieved when the two parts are connected. Both ends of the couplings come with threaded sizes (male NPT or female NPT). |

Can you use an air hose for water?
Any equipment designed for air should not be used in a water application. The residual water might significantly damage your equipment. Any pneumatic quick disconnect coupler should not be recommended or approved for use in a water application.
The type of fittings you need will depend on the application and the type of air tool or compressor you are using. It's important to make sure you choose the right fitting to ensure a safe and secure connection.
Our Singapore hardware store online offers a wide range of air hose fittings from renown brands to meet your hose products requirements, ranging from standard pipe thread to various quick disconnects. Whatever the scope of your requirements, our professionals can assist you in assessing and selecting the most appropriate air hose fittings to meet your requirements. Our customer service will also assist you in maintaining the efficiency of your applications and operations. You can improve your air supply or build complicated but sustainable air systems with the aid of our air hose fittings. Shop our Singapore hardware store online for the full range of air hose fittings. >> bit.ly/3O47b7q
●

122