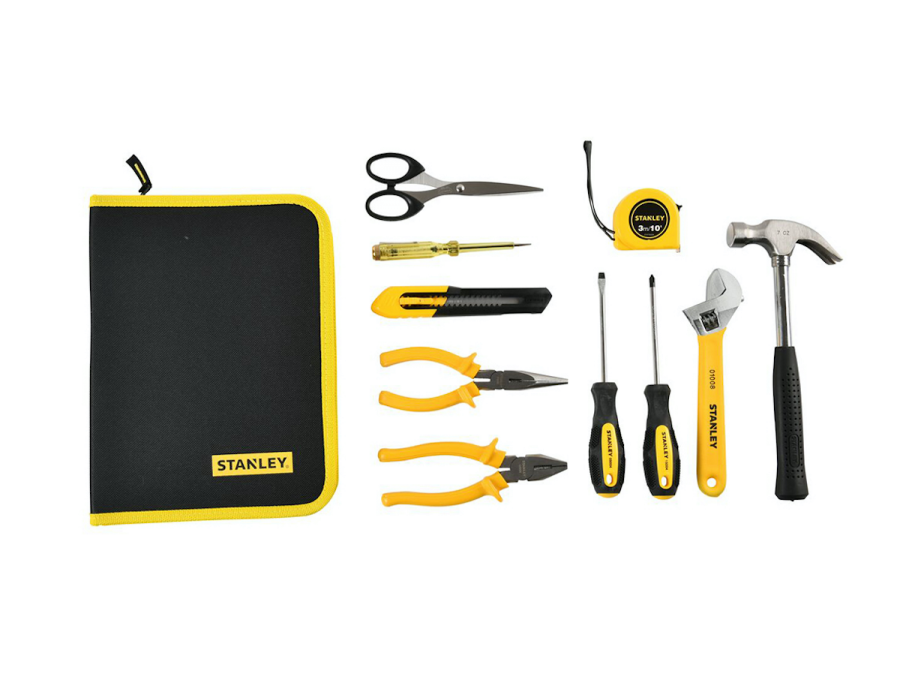 Here are 10 basic tools to keep on hand!
Screwdriver
| | |
| --- | --- |
| The screwdriver is perfect for that simple fix-it or for putting together that cabinet you just bought! Use them to tighten those screws or even to pry open the lids off those cans of paint! A basic screwdriver set should include all the common slotted and Philips-head sizes, as well as stubby versions to get into those tight spots. | |
Stanley 8-piece Assorted Screwdriver Set (STMT66673)
Hammer
Whether it's driving nails into the wall to hang up the family portraits or hammering together some ready to assemble furniture, a 16 oz hammer is perfect for such tasks. There are many types of hammers in the market, but the two most commonly used hammers are the Ball Peen (also spelt as Ball Pein) Hammers and the Claw Hammers.

The curved claw portion of a claw hammer is useful for pulling out the nails that sometimes get bent when there's a bad hammering job. The rounded peen of a ball peen hammer is perfect for rounding off metals. Whichever type of hammer you choose, a 16-oz hammer has just the right mix of versatility and heft for most tasks.
Stanley 16 Oz Claw Hammer, Wooden Handle (STHT51339)
Stanley 16 Oz Ball Peen Hammer, Wooden Handle (STHT54191)
Tool Storage Box
Good quality portable tool boxes are standard tool storages that every discerning tradesman should consider investing a little bit more in. Tool boxes come in various sizes but typically a good size would be 16'' to 19'' to store a basic range of tools.

A good tool box should be constructed of high quality plastic or metal and should ideally come with a top fold-down handle for easy transport. Most toolboxes come with an inner removable tote tray that stores the smaller items such as screws, nails and pencils for easy access.
Stanley 19" Plastic Tool Box with Tote Tray Organiser (STST1-70317)
Stanley 17'' Metal Tool Box with with Tote Tray (93-544-23)
Tape Measure
| | |
| --- | --- |
| Absolutely a must-have for everyone. Whether it's measuring that space for a new work desk or simply measuring that cargo for export, a standard 5 meter or 8 meter tape measure should suffice for most jobs. A good quality tape measure should have a sturdy casing that can withstand that accidental drop and the steel tapes should allow a sufficiently long stand-out, that is if you ever need to do some measurement jobs on your own. Stand-out basically refers to how straight you can extend your tape without it bending or losing its rigidity. | |
Stanley Tape Measure, Powerlock, 5M/16' (STHT33158-8)
Stanley Tape Measure, Powerlock, 8M/26' (STHT33428-8)
Flashlight
| | |
| --- | --- |
| The basic type of flashlight in your toolbox should be a good size for you to easily hold with one hand. A smaller pen sized light will be handy should you need to illuminate into tight spaces. When selecting a flashlight, look out for specifications such as lumens and hours. Lumens measure the light intensity; A modest lumens of 80 and above will suffice for most tasks. Hours, on the other hand, tells you how long a torch will operate out from a new set of batteries. | |
HEYCO LED Flashlight, 250 Lumens (01721000300)
PELICAN LED Flashlight, Yellow, 87 Lumens (1965-016-245)
Pliers
| | |
| --- | --- |
| Ideally, you'd need an assortment of pliers with various shapes and sizes. The common types of pliers would be the side cutting plier for cutting off wires and wire cable ties; long nose plier for holding, repositioning or removing those tiny items; And a grooved linesman pliers for removing those large staples or nails. | |
STANLEY 3 Piece Plier Set (STHT90162)
Knife / Cutter
| | |
| --- | --- |
| There are plenty of knives to choose from in the market. For basic tasks, a simple knife that has easy to snap-off blades would work for most people. These type of snap-off knives are ideal for light materials such as paper, cardboard or styrofoam. They are also handy when opening sealed boxes. For the safety-conscious person, a self-retractable knife with metal casing is also available. These type of knifes are generally more durable and lasts longer. | |
STANLEY Snap-off knife 18mm (10-280-0)
STANLEY Safety Self-Retracting Knife (10-189C)
Adjustable Wrench
| | |
| --- | --- |
| Having an adjustable wrench close at hand makes life just a bit easier when the task requires some tightening or assembling appliances or plumbing fixtures. Instead of investing hundreds of dollars in a socket wrench set, one adjustable wrench would usually get the job done nonetheless. | |
STANLEY Adjustable Wrench, 6'', Cushion Grip (90-947)
STANLEY Adjustable Wrench, 8'', Cushion Grip (90-948)
Level
| | |
| --- | --- |
| A must have for installing shelves or hanging that piece of artwork on the wall. Getting that perfect alignment is made easier when you have a level on hand. A good quality ABS plastic level would usually be good enough for most, but if you're looking to get one that lasts longer and can survive drops and dings, consider investing in one that is made of metal. | |
STANLEY ABS Plastic Torpedo Level 9'' (STHT42264)
STANLEY Heavy Duty Die Cast Torpedo Level 9'' (STHT42465)
Hammer Drill Driver Power Tool (Cordless / Corded)
| | |
| --- | --- |
| Considered the ''most used tool'' in the tool kit, a discerning tradesman or DIY-er should not be without a cordless or corded hammer drill driver power tool. Use it to drill holes in the wall to mount a shelf or TV, or cut short the work time and simply use it to tighten some bolts or screws. Choose a drill with a ''hammering'' function if you wish to drill into concrete / masonry, otherwise a normal drill driver for tightening bolts or drilling into metal or wood will be good enough. | |
STANLEY 18V Cordless Hammer Drill/Driver with 2 lithium batteries, 1 charger (SCH20C2K-XD)
STANLEY Corded Hammer Drill, 650W (SDG700K)
* All Prices are 7% GST inclusive
●

118