Pipeline Maintenance Tools for Shutdown and Maintenance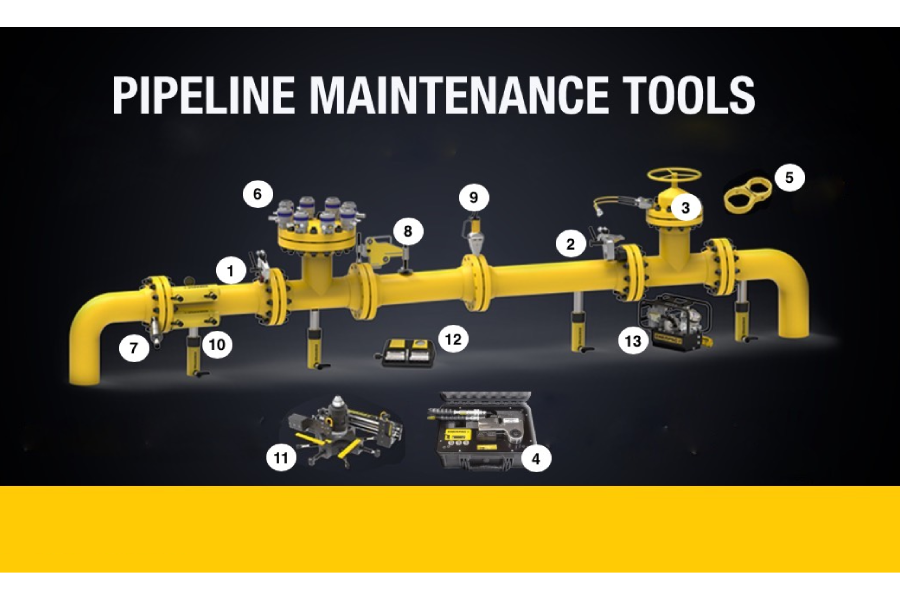 Whether it's the shutdown of a gas line for repairs, the reinstatement of an abandoned pipeline, or the preparation for an annual maintenance, all these operations are costly, labour-intensive and time consuming. In order to manage these projects effectively and achieve a successful shutdown, intelligent planning and effective resource allocation are essential. In the event of any plant shutdown or maintenance, having reliable tools and supplies are essential for ensuring the safety of the maintenance personnel as well as the on-time completion of the project. Here, we'll explore some of Enerpac's industry leading hydraulic tools that can help you choose the right tools for your shutdown and maintenance.
The right tools for your shutdown and maintenance:
1. Low Profile Torque Wrenches

Featuring a superior strength to size ratio, low profile hydraulic torque wrenches such as the W-Series provide easy access to areas that are difficult to reach

2. Square Drive Torque Wrenches

S-Series - Compact, high-strength uni-body construction which provides a small operating radius without sacrificing endurance.

DSX-Series - Made of lightweight aluminium, with built-in safety tether for working at height.

3. Modular Torque Wrenches

HMT-Series - The tools and cassettes of HMT-Series are interchangeable with many other brands.

RSL-Series - Made of steel and has an innovative design that completely encloses all moving parts and minimizes pinch points.

A compact and portable safety device that allows operators to quickly validate the performance of the entire system (wrench, pump, hose, etc), providing an accurate digital readout in a few seconds.

A hands-free tool eliminates the need for a flogging spanner as a backing tool and speeds up the bolting process.

The GT-Series hydraulic bolt tensioners are designed to ensure accurate, consistent preload in single or multiple fasteners.

One of the safest and efficient methods. It takes less time to avoid costly damage to joint components. The nuts are split from two sides in one action with the two blade models.

Flange alignment tools are engineered to rectify twist and rotational misalignment without additional stress in pipelines. Available in mechanical or hydraulic configurations.

A portable and practical tool for separating flanges of varying sizes using hydraulics and mechanical principles.

10. Cylinders

The RC Trio range features a new 'Trio' Bearing System for enhanced durability, and a new hybrid spring-return system for fast retraction and greater productivity. Hundreds of different configurations are available.

Flange Facers are known for their precision construction, the results they deliver, and their ease of set-up on-site. These high-performance tools produce precise, continuous groove facing feeds to ASME standards for oil and gas, power generation and petrochemical industries.

12. Air Driven Hydraulic Foot Pumps

The XA-Series Pumps are engineered with higher oil flow for greater productivity, and variable oil flow and fine metering for precise control. Closed hydraulic systems prevent contamination and allow pump usage in any position. They also include a ground screw for improved ATEX explosion safety.

13. Air Hydraulic Torque Wrench Pumps

The Enerpac LAT-Series Pumps are ATEX-certified, providing maximum productivity with best-in-class flow-to-weight performance and a proven air motor with a three-piston design. They provide years of reliable service with fastening and breakout speeds to keep you on schedule and under budget.
Applications:
Torque Wrenches Application:

With W-Series Torque Wrench, the restricted access on the flange can be solved easily. The W-Series Torque Wrench offers reliability and control, providing even and consistent torque to all bolts.

Machining Tools Application:

GT hydraulic tensioners provided a safe and efficient solution for assembling multiple flanges at the gas treatment facility. The compact profile of the tensioners allowed them to fit into critical joints, providing accurate bolt loads with leak-free connections.

Pumps Application:

Global engineering and construction used the compact and lightweight Electric Torque Wrench Pump for tightening the flanges at tight areas of pipework and harsh worksite environment. The Electric Torque Wrench Pump improves application completion speed, and the job was able to be completed ahead of schedule and did not require any downtime.

Cylinders Application:

A custom synchronous lifting system was engineered to lift the 600 tons of massive vessel for repairing the base below a coker at a refinery in the Oil Sands. The CLRG high tonnage hydraulic cylinders with stroke sensors were included in the system to carry out the operations successfully with the highest degree of safety.

Nut Cutters Application:

During the maintenance services at the petrochemical production facility, the NC-Series hydraulic nut cutter was used to remove corroded nuts safely without damaging the bolt, flange, or gasket. The NC-Series nut cutter is an efficient tool for removing corroded nuts and frozen nuts.

Flange Spreaders Application:

The Equalizer Flange Spreaders were inserted into the 6mm access gap between the flanges and pull out the damaged quill within the pipeline with their large spreading capabilities. There was minimal downtime, and no damage to the flange and pipework.
Sourcing any reliable hydraulic tools for your shutdown and maintenance job? As an authorized distributor of Enerpac's range of hydraulic tools, Chee Fatt Company is Enerpac's longest serving distributor in South East Asia, with decades of experience distributing and supplying a wide range of Enerpac hydraulic products for many local and global oil and gas companies. With its innovation and reliability, Enerpac's hydraulic tools has been developed to be the trusted products for all professionals, with core products such as Enerpac hydraulic jacks, cylinders, pumps, torque wrenches, and pullers.
Check out our official website to discover more: bit.ly/3i9umPh
Contact us for the best hydraulic solution >>marketing@cheefatt.com
Download Enerpac Catalogues:
Enerpac Bolting Tools
Enerpac Industrial Tools
Request for more information:
Tooling & Equipment Solutions
Reference:
Enerpac Pipeline Maintenance Tools
●

540