Top Choices of RIDGID Drain Cleaners – Home and Commercial Use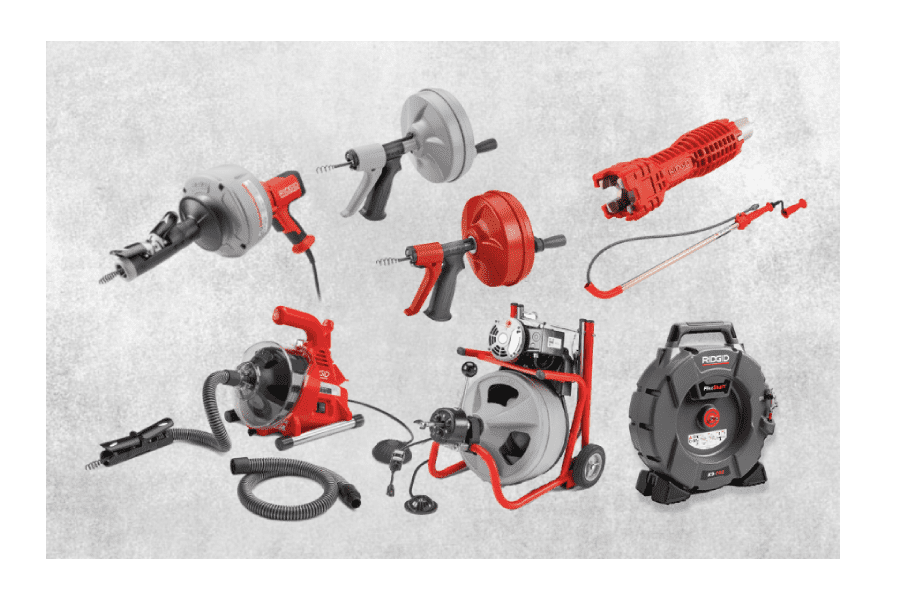 Clearing a clogged drain or sink can be a hassle and may not be an easy task for most people. Choosing the right Drain Cleaner will save you valuable time and, in most cases, save you quite a sum of money as well. There are many different types of Drain Cleaners available on the market which are suitable for both commercial and home use. In this article, we will explore some of RIDGID's range of drain cleaning solutions for commercial and residential applications as well as provide you a buying guide to choose the right Drain Cleaner to meet your cleaning requirements.
Drain Cleaners for Commercial Use:
1. FlexShaft Machine
| | |
| --- | --- |
| | |
RIDGID FlexShaft Machines are lightweight, compact, and highly efficient machines that provide fast and efficient wall to wall cleaning in commercial pipes up to 70 feet (21.3m). The beauty of this machine is that it is operated simply by a cordless power drill (any branded power drill, sold separately), providing a truly portable solution that can used anywhere on the jobsite. The machines use powerful chain knockers to expand to the pipe's diameter to clear the entire circumference quickly and efficiently. These FlexShaft Machines can also be operated with an inspection camera to oversee the entire cleaning process as well as inspection after cleaning. There are two models for these FlexShaft Machines: K9-204 is a large and durable FlexShaft Machine that can be used for 2"- 4" large pipelines. K9-102 is a lightweight and portable FlexShaft Machine that can be used for 1-1/4" – 2" pipeline. The faster setup and cleanup make it convenient in most commercial cleaning jobs.

2. K-45 Sink Machine
| | |
| --- | --- |
| | RIDGID K-45 Sink Machines are the best choice for cleaning 3/4" to 2-1/2" small drain lines in commercial jobs such as sinks, tubs, or shower drains. Featuring lightweight and portable, these Sink Machines are easy to use, convenient and no setup required. The machines are available in two feed configurations, manual feed and AUTOFEED that you can choose to match your commercial cleaning jobs. The AUTOFEED allows the cable to be advanced and retrieved with the push of a lever. For the manual version, the cable must be fed into and out of the drum manually. Both types of machines have a slide action chuck for quick locking/releasing. Its inner drum is built to prevent water leaks and cable from flipping over the drum. The cable can be spun with variable speed power up to 600 RPM to remove the toughest clogs. |
3. K-400 Drum Machine
RIDGID K-400 Drum Machines are heavy duty and portable drain cleaners that provide fast and high efficiency cleaning for sinks, showers and tub drain lines from 1-1/2" to 4" diameter. The machines are equipped with a cable control system that stops the drum from spinning when the tools stop rotating and the torque exceeds the set value. This feature helps to prevent the cable from flipping over in the drum. The "Solid-Core" integral wound cable is kink-resistant and durable. The cable has a quick-change coupling system that allows tools to be connected or disconnected quickly. The machines are available in AUTOFEED control as well that allows the cable to be fed in and out of the drum automatically. Manual cable feeding options are also available at a lower cost. Easy movement and user-friendly, the K-400 Machine is ideal for cleaners, service plumbers as well as the facilities and maintenance department.
Drain Cleaners for Home Use:
1. PowerClear R7 Drain Cleaning Machine
Discover RIDGID's PowerClear R7 Drain Cleaning Machine, a powerful and versatile drain cleaner that cleans any tub, shower or sink blockage effectively from 3/4" to 1-1/2" diameter drains. The machines feature two-piece guide hoses that enable users to use one piece for close applications and extension for areas with limited access. The heavy-duty inner core cable increases kink resistance for long life. R7 Drain Cleaning Machines come with AUTOFEED control that allows the cable to be advanced and retrieved automatically, keeping your hands and work area clean. The machines are equipped with a drain plug that drains excess water after use and extends the cable life. The RIDGID R7 Drain Cleaning Machine is best suit for residential as well as commercial use.
2. Toilet Auger
Cleaning the blockage in toilets can be a hassle. With RIDGID's Toilet Auger, the blockage in toilets and urinals can be cleared with its bulb head safely and quickly. Easy to handle and versatile, the toilet auger can be operated by attaching a power drill (any branded power drill, sold separately) to speed up the spinning and cleaning process. The cable can be extended up to 6' long and clear beyond the toilet with its quick-lock adjustment. A good choice for any household use.
3. EZ Installer Tool
Introducing RIDGID's EZ Installer Tool, also known as EZ Change Faucet Tool. The EZ Installer tools are powerful plumbing multi-tools that are used for common under-sink faucet installations and sink strainers. These lightweight, highly durable and compact tools with durable inserts perform a variety of faucet installation tasks including basket strainers, supply lines and shut-off valves. Its unique cubed inserts provide a variety of common nut sizes, and its reinforced body is suitable for clearance in tight spaces.
4. Hand Spinners
There are two popular models of Hand Spinners in RIDGID's range of cleaning solutions. The Kwik-Spin Hand Spinners (57038) are used to clean the drain lines effectively from 1/2" up to 1-1/2" in diameter. Its cables are positively retained in the drum to prevent cable pullout. The Power Spin Hand Spinners (41408) are used to clean the drain lines from 3/4" to 1-1/2" in diameter. The Kink-resistant Maxcore cables are equipped with these Power Spin Hand Spinners for drill powered operation up to 500 RPMs. Both types of Hand Spinners are available in AUTOFEED control that allow the cable to self-feed down the drain. An innovative feature of these hand spinners include the ability to use a power drill and attached it to the Hand Spinners to speed up the spinning and cleaning process. Best suited for cleaning any tubs, showers, or sinks in household or residential areas.
Looking for a high efficiency and productive drain cleaner for your commercial or home use? As an authorized distributor of RIDGID's range of Drain Cleaners, Chee Fatt Company has decades of experience in distributing a diverse range of high-quality and reliable Drain Cleaners from the RIDGID brand to meet any commercial and residential cleaning requirements.
Explore our website to learn more @ bit.ly/3mndve0
* All prices are 7% GST inclusive
* Features may differ from model to model
Drop us a line and let us know how we can assist you with your drain cleaning requirement. >>marketing@cheefatt.com.
Reference: https://www.RIDGID.com/
Links for Reference:
FlexShaft: https://www.RIDGID.com/sg/en/FlexShaft-machines
K-45: https://cdn2.RIDGID.com/resources/media?key=1ee7321f-1276-4d61-a5bc-6bdba2694b1f&languageCode=en&type=document
K-400: https://cdn2.RIDGID.com/resources/media?key=57f0a824-d594-45a9-8096-0e5676945dc0&languageCode=en&type=document
R7: https://www.RIDGID.com/sg/en/powerclear-r7
Toilet Auger: https://www.RIDGID.com/sg/en/k6p#
EZ Installer: https://www.RIDGID.com/sg/en/ez-change-faucet-tool#
Hand Spinners: https://www.RIDGID.com/sg/en/kwikspin-plus
https://www.RIDGID.com/sg/en/powerspin-plus
●

364