10 Types of Wrenches and Their Uses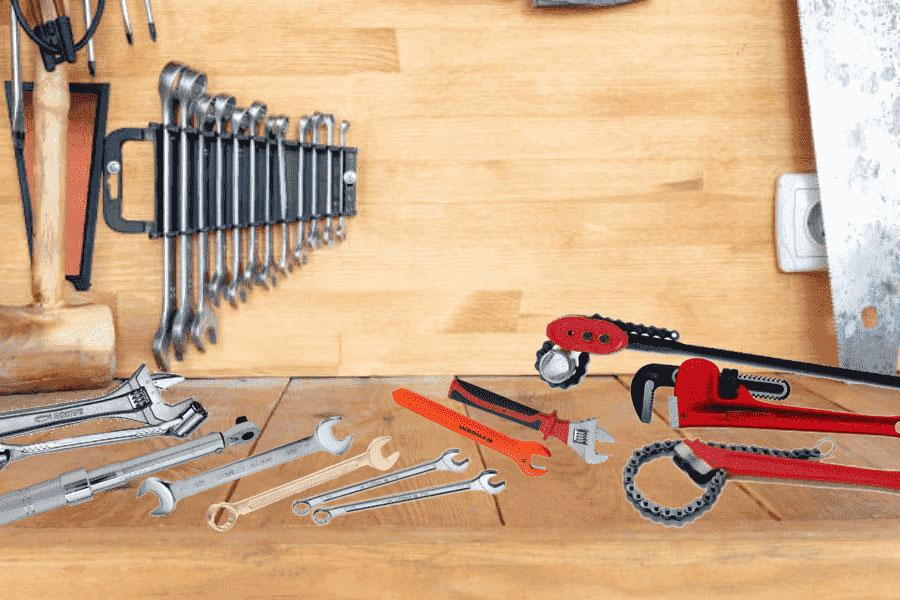 Wrenches or otherwise commonly known as spanners are used extensively and are perhaps one of the most essential tools in all industries. They are one of the most basic tools used for gripping, tightening, loosening, or fastening fittings, bolts, and nuts. Since its invention, we have seen many innovations to the humble wrench; Different shapes, functions, sizes, and standards to fulfill various job requirements. The following are 10 different types of wrenches and their uses.
1. Adjustable Wrenches
| | |
| --- | --- |
| | Adjustable Wrenches are probably one of the most popular and flexible tools. There is a movable jaw which can be adjusted according to different sizes of the bolts and nuts by controlling a thumb screw on the wrench. You might even have come across versions with a sliding lever as well. Some models will also come with different types of handles such as comfort grip (i.e. rubber-dipped handle) or standard grip (non-coated). |
2. Torque Wrenches
| | |
| --- | --- |
| | Torque Wrenches are precision instruments used to tighten bolts and nuts to a predetermined torque value. These tools help to prevent damage caused by over tightening or joints coming apart from under-tightening. They are ideal for use in automotive applications, aircraft, and heavy machinery where precision torque is required. |
3. Pipe Wrenches
| | |
| --- | --- |
| | Pipe Wrenches are adjustable wrenches made from high quality iron or aluminium material for fastening or dismantling pipes in plumbing, HVAC, and in household maintenance. These wrenches have serrated jaws which can easily grip onto pipes and fittings. The upper jaws of the wrenches can be adjusted to suit different pipe sizes ranging from minimum 3/4" to 8". |
4. Combination Wrenches
| | |
| --- | --- |
| | Combination Wrenches are multi-function tools that have a box end (closed end) on one side and a crescent U-shaped end (open end) on the other. Both ends can be used for fastening and loosening bolts/nuts. They usually come in the same size for each end. Variants with a ratcheting box end are also very common in the market. Combination Wrenches are highly efficient tools used for household maintenance, manufacturing, or automotive industry. |
5. Box End Wrenches
| | |
| --- | --- |
| | These types of wrenches are designed with enclosed heads on both ends which allow them to fit completely around the bolts and nuts. Box End Wrenches serve the same purpose as combination wrenches and are often used to tighten and loosen bolts and nuts. The wrenches usually come in 6-point or 12-point heads to maximize torque and turning power. |
6. Open End Wrenches
| | |
| --- | --- |
| | Open End Wrenches on the other hand have U-shape open heads on both ends, usually in the same sizes. Some brands have special jaw designs that allow the wrench to grip the nuts/bolts better. |
7. Swivel Head Socket Wrenches
| | |
| --- | --- |
| | The Swivel Head Socket Wrench is a professional grade wrench that has an adjustable swivel head at both ends which can rotate to different angles up to 180 Degrees. The swivel head design allows torque to be applied even at unusual angles and in confined spaces. |
8. Insulated Wrenches
| | |
| --- | --- |
| | Insulated Wrenches are engineered with high quality insulated coating material which provide users a high level of safety and protection against electric shock. These wrenches are most suited for electrical applications, at construction sites and machinery in high voltage areas. There are a variety of Insulated Wrenches available to suit the users' needs, including Adjustable Wrench, Open End Wrench, and more. |
9. Non-Sparking Wrenches
| | |
| --- | --- |
| | These tools are made of nonferrous metal alloys that have been tested and proven not to produce sparks when in use, thus making them safer to use in certain environments with potentially explosive materials in the surrounding or atmosphere where flammable or combustible vapors or liquids are present. A wide range of Non-Sparking Wrenches have been developed to meet the needs of such jobs. |
10. Chain Wrenches
| | |
| --- | --- |
| | The Chain Wrench or Chain Tong is an adjustable pipe wrench with a chain instead of a hook jaw. They are ideal for fastening and dismantling heavy duty pipes in large diameter. The wrenches consist of a forged steel handle and a heavy sprocket chain attached to it. Chain Wrenches are usually rust-proof treated, which makes it suitable for use in marine industry, plumbing works and waterworks. |
Looking for any reliable and durable hand tools to fill your tool kit? As an authorized distributor of hand tools in the region, Chee Fatt Company has a decade of experience in distributing a wide range of best quality and reliable hand tools from global brands to meet different industrial job requirements. We offer a wide variety of hand tools, ranging from light duty screwdrivers to heavy duty equipment such as tool workstations. To discover more hand tools, visit our official website now: bit.ly/3uIZ8pG
*All prices are 7% GST inclusive
* Features may differ from model to model
Check out our latest products and let us know how we can assist you with your hand tools requirements. >>marketing@cheefatt.com.
●

458