FREE LOCAL DELIVERY FOR ORDERS ABOVE $100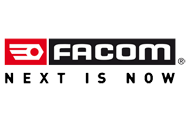 The FACOM brand is associated with the great advances of the century. The automotive industry, rail, aviation, aerospace, and great adventures such as deep-sea exploration, space travel, medical progress, high technology, extreme sports, monuments and the greatest construction projects of the time carry the brand's seal.
Facom first started selling its only product, the spanner, before innovations started to multiply. Facom now manufactures electrical tools, fastening tools, measuring tools, impact sockets, hand and power tools, TOUGHSYSTEM storage system and many more.
Facom products are manufactured largely in their 4 European and French plants and sold at Chee Fatt Co. Pte Ltd, Singapore.