Choosing The Right Hydraulic Torque Wrench For Your Applications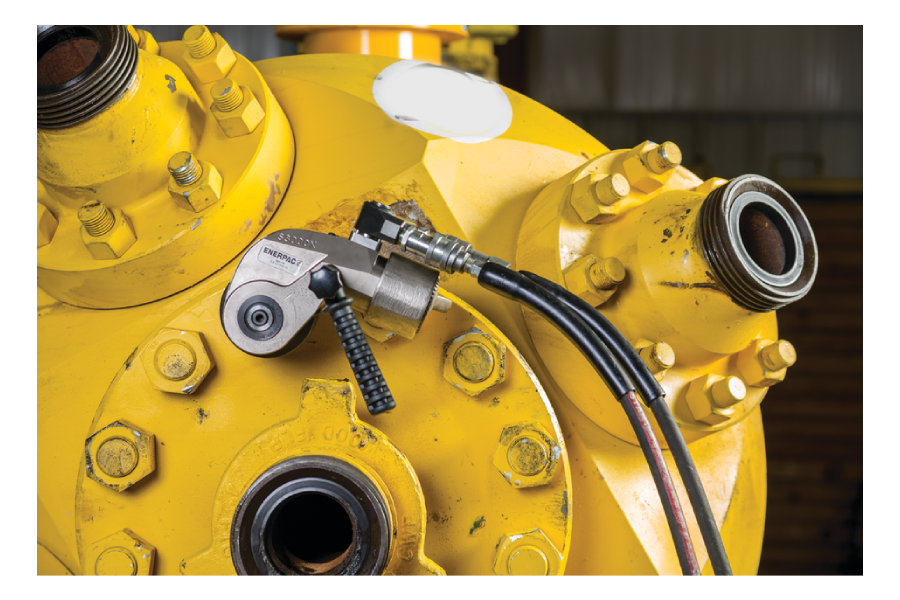 Hydraulic torque wrenches have become more advanced since they were produced in the early 1960s. With the progression and advancement of technology, many manufacturers offer a multitude of features and options of bolting tools, making it difficult to decide which tool is best for you. The right tools for your job can make all the difference. When it comes to choosing the right hydraulic torque wrench, there are a wide range of choices available and many factors to consider. The designs and features of each series of torque wrenches are tailored to suit different hydraulic applications. In this article, we provide a brief overview of our torque wrenches as well as summarize the key considerations to help you choose the right bolting tools.
Basics of Torque Wrench
Hydraulic torque wrenches are engineered to apply a specific and precise torque level and control with a consistent level of force to tighten or loosen nuts and bolts. In general, a hydraulic torque wrench consists of two primary components; a square drive sockets or hex cassettes and a drive unit powered by a pump. A hydraulic torque wrench is connected to a pump via a coupler and hose.
Types of Torque Wrenches
| | |
| --- | --- |
| | A square drive hydraulic torque wrench can work with different sized sockets to fit the nut and bolt to be tightened or loosened. A single body design such as S-Series and DSX-Series provides superior durability and high-strength for complete operator safety. A modular design unit such as Enerpac's RSL-Series and HMT-Series provides superior versatility with a drive unit that can adapt to both low profile cassettes and square drive sockets. |
| | |
| --- | --- |
| | Low-profile hydraulic torque wrenches feature interchangeable ultra slim cassettes for limited access applications. There are 3 types of low-profile hydraulic torque wrenches from Enerpac (W-Series, RSL-Series & HMT-Series) that are engineered with different designs and features to meet your requirements. |
Application Considerations
1. Determine the Size and Torque Range – Choosing the right size and torque output will help to increase productivity for your hydraulic jobs. There is a wide range of drive heads with different maximum torque output to choose from and cover a certain range of hex sizes. Consult our sales for your hydraulic requirements.
2. Frequency of use – For high frequency of usage, consider single body square drive wrenched (Enerpac's S-Series) or low-profile wrenches (Enerpac's W-Series), as these wrenches provide superior durability and versatility.
3. Versatility and Multi-Purpose - If you need a multi-purpose tool or upgrade your torque tools that serve a wide range of applications, Enerpac's RSL-Series and HMT-Series will be your best choices. Both series are the perfect 2-in-1 solution for a wide range of bolting jobs that require square drive and low-profile torque wrench. It can be quickly and easily interchanged to meet the needs of bolting jobs. A good advantage of Enerpac's HMT-Series is that they are able to accept hex cassettes from OTHER brands as well, providing huge cost savings to the user.
4. Site Conditions – Not all hydraulic torque wrenches can fit to any complex working environment, especially so if there are tight or limited spaces to work in. Enerpac's low-profile torque wrenches (W, RSL & HMT-Series) features ultra slim cassettes are the best option for limited space access applications.
When working at height, a lightweight and portable torque wrench is ideal. The tether point connection on Enerpac's DSX-Series torque wrench and its secured reaction arms can assure that all moving parts are secured to prevent any dropped objects. Its aluminum body construction makes it lightweight for maneuverability and portability.
5. Cassette Choice – You may need to choose specific cassettes to suit various A/F (Across Flat) hex sizes when selecting a low-profile type of torque wrench. There is a wide range of imperial and metric sizes to choose from to suit the drive heads.
6. ATEX Certifications – If you require an approved and certified hydraulic torque wrench, Enerpac's S, W, DSX and HMT-Series come with ATEX certifications.
7. Pump Flow Rate – The flow rate of the pump will determine the speed of operation of the hydraulic torque wrench. Hence, choose a pump with a higher flow rate to ensure a high performance from your torque wrench.
8. Accessories – Accessories can be added to hydraulic torque wrenches to increase the amount of applications they can handle and make bolting jobs safer and more efficient. Some accessories that you may consider include Enerpac's back-up spanners and safe-T torque checker, reducers etc.
Enerpac's Safe-T Torque Checker is a digital hydraulic torque wrench measurement system that provides on-site accurate performance testing for all Enerpac torque wrench products.
Sourcing a reliable hydraulic torque wrench for your bolting applications? As an authorized distributor of Enerpac's range of hydraulic tools, Chee Fatt Company has decades of experience in distributing a wide range of hydraulic tools to fulfill the requirements from oil & gas industries. With its innovation and reliability, Enerpac's hydraulic tools has been developed to be the trusted products for all professionals, with core products such as Enerpac hydraulic jacks, cylinders, pumps, torque wrenches, and pullers.
Explore our official website to find out more: bit.ly/3i9umPh
Don't see the models you want? Drop us a line and let us sort it out for you >>marketing@cheefatt.com
●

193