Know The Difference Between Rotary Hammer Drill And Hammer Drill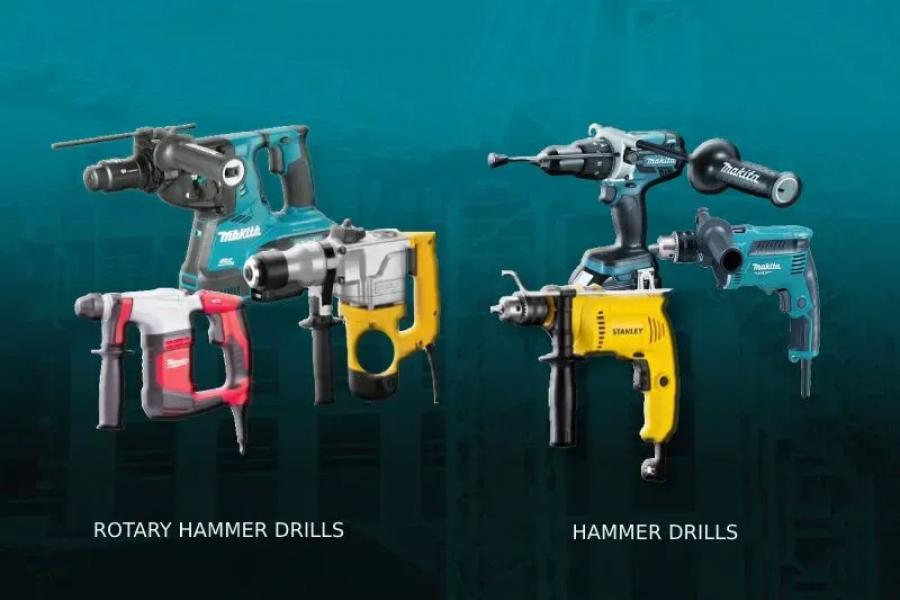 The Rotary Hammer Drill and Hammer Drill are two of the most popular tools used for drilling work. Both drill tools share a similar function: typically both are used for drilling into different types of surfaces with a drill bit that advances in a circular motion. However, the similarities end at that and in fact they both differ in their features and capabilities. This article will explore the difference between the Rotary Hammer Drill and Hammer Drill. Knowing the difference between these two types of drills will help you make a much more informed decision about which tool you should use for your drilling tasks and perhaps even help you save some money in turn.
| | |
| --- | --- |
| Rotary Hammer Drill – SDS Chuck | Rotary Hammer Drill – Piston |
The Rotary Hammer Drill is engineered for executing tasks efficiently like hammering, chiselling or drilling into hardwood, poured concrete, mortar, etc. Rotary Hammers are particularly effective for drilling tough materials, because of their superior power output and shock-absorbing qualities. Rotary Hammers are usually equipped with SDS Chucks which are better for hammering or chiselling functions. Internally, Rotary Hammers have a rotating component in the hammer which allows for a more circular motion, enabling it to produce deeper and bigger drill holes of up to 2 inch (50mm) in diameter. It uses a piston mechanism instead of a special clutch providing a more powerful hammer drilling function. A professional grade Rotary Hammer Drill is a heavy duty, robust and hardy type of power tool, designed to maximize power output while ensuring user safety and comfort with anti-vibration features. In addition, most Rotary Hammers have a mode selector with three settings: rotary drill, hammer drill, or just hammering; This last function allows the Rotary Hammer to function like a mini jackhammer.
| | |
| --- | --- |
| Hammer Drill – 3 Jaw Chuck | Hammer Drill – Discs |
The Hammer Drill, on the other hand, is perfect for performing tasks like hammering or drilling into softer concrete, wood or masonry. It is also ideal for use in any DIY tasks or simple household tasks. Hammer Drills provide effective drilling of holes of up to about 1 inch (25mm) in diameter at high speed. It uses mechanisms that rotate and drive the drill bits forward as they spin, resulting in a higher speed pulsing action. Hammer Drills contain two discs with ridges that allow the discs to slide past each other as they rise and fall, causing the chuck to slam forward and back to create a hammering action that turns the drill bit. Hammer Drills usually have hammering and non-hammering functions and come equipped with the usual 3-jaw chuck.
So this brings us to the golden question… which drill tool is ideal for you? The Rotary Hammer Drill is the first choice of construction workers, electricians, plumbers and professionals who require heavier duty power tools to drill into harder material while onsite. The Hammer Drill on the other hand is best suited for DIY homeowners or general tradesmen. Keeping in mind the size of the hole that needs to be drilled should also be taken into consideration; A Rotary Hammer Drill is ideal for drilling holes that are larger than 1 inch (25mm) in diameter; Whereas if you're drilling a smaller hole, a Hammer Drill is your best option.
As an authorized distributor of power tools in the region, Chee Fatt Company has a decade of experience in distributing a wide range of high-quality drill tools from renowned brands to meet different requirements. From corded to cordless, rechargeable to non-chargeable, we have them. To check out more power tools, start browsing our official website now: bit.ly/3s4Ya5I
Drop us a line and let us know how we can assist you with your drill tools requirement.
References:
https://www.shakedeal.com/blog/know-the-difference-between-rotary-drill-and-hammer-drill/
https://www.familyhandyman.com/article/drilling-into-concrete-tools-rotary-hammers-and-hammer-drills/#hammer-drill-vs-rotary-hammer
https://www.diffen.com/difference/Hammer_Drill_vs_Rotary_Hammer
●

566