Recommended Safety Products to Improve Efficiency and Workplace Safety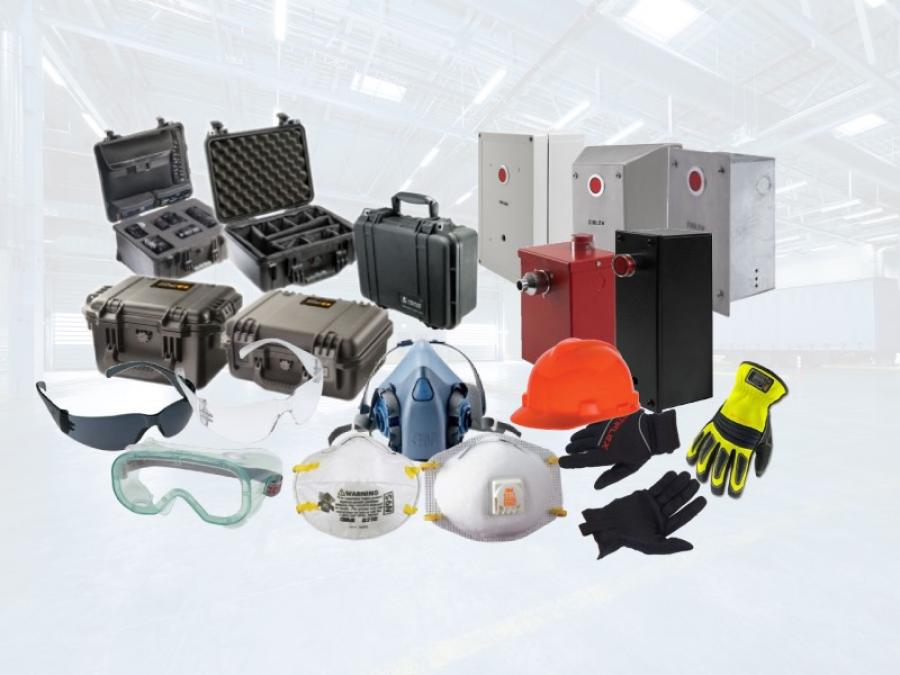 It is without a doubt that a safer workplace will contribute to higher efficiency and productivity. The most common benefits of a safer workplace are improved morale and trust, increased productivity and efficiency due to lesser downtime caused by injuries and illnesses. As such, promoting a culture of workplace safety is fast becoming one of the most important corporate initiatives worldwide. With numbers of workplace accidents on the increase, investments in high quality safety products and fostering a culture of safety first are increasingly becoming the norm in almost every industry, with some companies engaging their own inhouse HSE personnel to enforce safety at the workplace.
There are a wide selection of off-the-shelf high quality safety products from various brands to meet any workplace safety requirements. Here, we will be recommending some of our best-selling safety products.
Safety Glasses
| | |
| --- | --- |
| | Protective Eyewear such as safety glasses or goggles prevent any harmful substance or debris from hurting your eyes and act as offer some form of UV protection. The safety glasses feature a wrapped around design which extends the protection to your eyes and allow an unobstructed view of the surroundings. The glasses come with various styles and lens colour to suit different needs. These safety glasses are suitable for grinding, chiselling, drilling, sawing, machining, etc. |
Hand Gloves
| | |
| --- | --- |
| | Ensuring workers wear the right safety gloves is of utmost importance and essential to prevent any hand injury at the workplace. Choosing the correct materials for your specific tasks can prevent any risks of hand injury. With cutting edge developments in materials, the most common type of mechanical work gloves now come with features such as touch screen compatibility and breathable material for all day wear. As what the name suggests, heat resistant gloves are designed to withstand high temperatures, allowing workers to perform and operate any work that involves fire or dangerous hot surfaces. |
Respiratory Protection
| | |
| --- | --- |
| | Respirators protect workers against harmful chemicals, smoke and gases at the workplace. The 3M N95 disposable face masks are designed to achieve efficient filtration of at least 95 percent. These face masks are ideally suited for hot and dusty work as well as fending off the Covid19 virus. With the pandemic, the N95 face masks are widely regarded as the most effective and sought after type of surgical masks to prevent infection and the spread of virus. Another option for the respirator will be the 3M half mask respirator. These come with dual filters and are adjustable to provide a comfortable and reliable respiratory protection with personalized fit. |
Safety Helmet
| | |
| --- | --- |
| | Safety helmets or also commonly known as hard hats are a must-have item in any worksite. The helmets are designed to protect the head against falling objects and to a certain extent, protect the side of the head and shield the eyes from any potential impacts. Hard hats come in all sorts of shapes and sizes to suit the different requirements (and style!) of the wearer. Ergodyne USA has a series of safety accessories suitable to use with any hardhat. Take for instance the Ergodyne hard hat Squid 3155 lanyard clamp that tethers hard hats to prevent them from becoming dangerous dropped objects when working at heights as well as Ergodyne's Chill-Its 6609 Hard Hat Sweatband Liner which is made with absorbent terry cloth to prevent sweat from dripping into eyes when working in hot environments. |
Protective Cases
| | |
| --- | --- |
| | Protective cases are designed with high quality materials and innovative technology to protect any sensitive equipment against extreme conditions. From Iphones to drones, Pelican's protective cases come in all sorts of sizes and are world renowned for their durability and custom foam solution to suit users' requirements. |
Flameless Cigarette Lighters
| | |
| --- | --- |
| | Ciglow's flameless cigarette lighters are a safe alternative to traditional lighters. They are used to protect potentially hazardous environments from the threat posed by naked flames and flammable material. It is ideal for use in a workplace with a "No Lighter, No Naked Flames" policy and helps to confine smoking to a specific area. Ciglow lighters come with a variety of designs and features suitable for use in all areas including industrial sites, factories, or any environment classified as hazardous or with fire hazards. |
* All prices are 7% GST inclusive.
Drop us a line and let us know how we can assist you with your safety requirement.
●

137